Overview
Swivel joints are metal pipe fittings with integral ball-bearing swivels. They are commonly used in manifolds which enable 360 degrees rotation and angle change for flexible connection in limited space and are ideal choices for well service. As an API-6A & API-16C certified manufacturer, Qihang swivel joints are forged from premium alloy steel. The contents of various alloy elements are under strict control during material smelting, heat treatment to ensure excellent hardness, strength and ductility.
Technical Details:
Product Name: High Pressure Chiksan Type Long Radius (Long Sweep) Swivel Joints

Sizes: 2", 3", 4
End Connections: Fig 1502, Fig 2002 or Line Pipe Thread (LP)
Style: Style 30
Configurations: Male x Female (MxF)
Cold Working Pressure (CWP): 2000 PSI, 3000 PSI, 5000 PSI, 6000 PSI, 10000 PSI, 15000 PSI, 20000 PSI
Material: AISI 4130 (Integral Forged)/ Stainless Steel
Temp Class: P-U (-29°C-121°C)
Working Condition/Service: Standard Service, Sour Gas Service (H2S) in accordance with NACE MR0175
Performance Requirement: PR1, PR2
Product Specification Level: PSL3
Standards Carried: API Spec 16C
Traceability: Qihang's Swivel Joints are supplied with full traceability documentation.
Applications: High-pressure well service flowlines, frac manifold, well testing internal connections, cementing and circulating flowlines, Manifolds and Pipelines etc
Origin: China
Gallery of Fig 1502 Chiksan Long Radius (Long Sweep) Style 30 Swivel Joints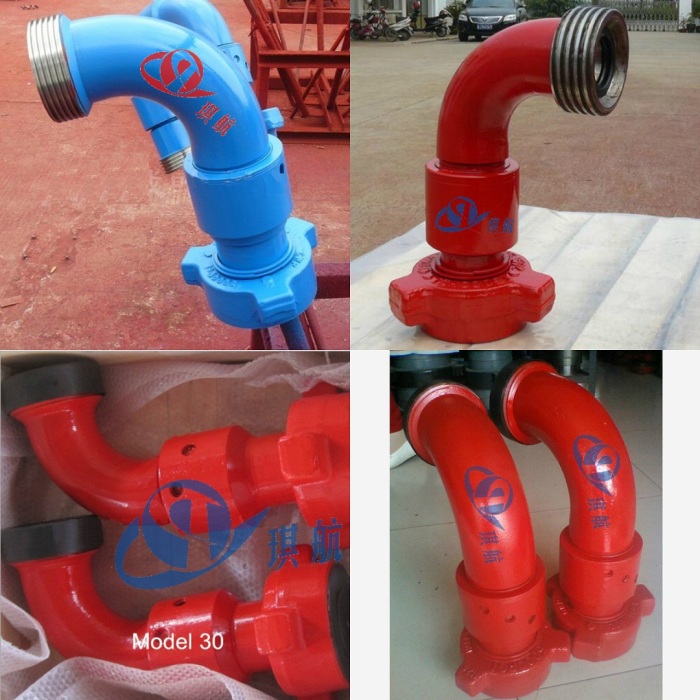 All of Qihang's raw materials and products are subject to rigorous and comprehensive quality check and testing.
Contact us Today for your specific Chiksan Swivel Joints requirements!