Overview
In the oil & gas drilling industry, Choke Valve is pressure control equipment used to restrict and regulate the flow of well fluids to maintain a desired pressure and flow rate. Choke Valves typically have hardened internal replaceable parts specifically designed to resist erosion caused by high pressure, high velocity or abrasive fluids typically used as part of a Choke Manifold or Xmas Tree.

Choke Valves are available in various configurations for both fixed and adjustable modes of operation. Adjustable choke valves enable the fluid flow and pressure parameters to be changed to suit process or production requirements. In contrast, fixed choke valves don't provide this flexibility, although they are more resistant to erosion under prolonged operation or production of abrasive fluids. Choke valves can be manually or hydraulically operated.
Qihang's hydraulic choke valves are fully designed and manufactured in accordance with API 6A, API 16C, and NACE-MR0175 standards. Available in bore sizes from 1-13/16" to 4-1/16" and working pressure up to 15000PSI. The standard material for our choke valves is integral forged AISI 4130 alloy steel, other material and specifications are available upon request.
We have put great efforts and much considerations into these valves and made them availabe in various options to accomodate different operating environments.
Detailed Specifications:
Product Name: Hydraulic Choke Valve
Nominal Bore: 1-13/16" - 4-1/16"
Standards: API Spec 6A, API 16C, NACE MR0175 etc
Pressure Rating: 2000 PSI to 15000 PSI
Material: AISI 4130 (Forged), other material is available upon request
Outlets: Flange or Union
Working Medium: Oil, Natural Gas, Water, Drilling Fluid etc
Material Class: AA, BB, CC DD, EE, FF
Temp Class: L, P, R, S, T, U, V
Performance Requirement: PR1, PR2
Product Specification Level: PSL1, PSL2, PSL3, PSL4
Application: Wellhead Christmas Tree, Choke Manifolds etc.
Features/Others:
Integral forged valve body with fine mechanical properties.

Needle structure for easy flow controlling and adjusting.

Trims are made of material with fine wear resistance and scour resistance.

Internal parts can be easily disassembled and replaced.

Easy to operate and simple to maintain


On-Time delivery and competitively priced
BOM List of API 6A API 16C Hydraulic Choke Valve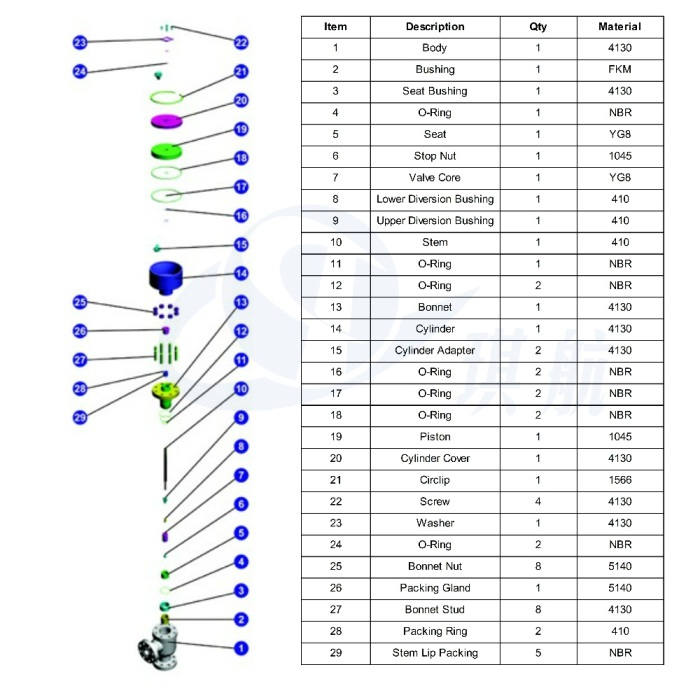 Image gallery of API-6A API-16C Hydraulic Choke Valves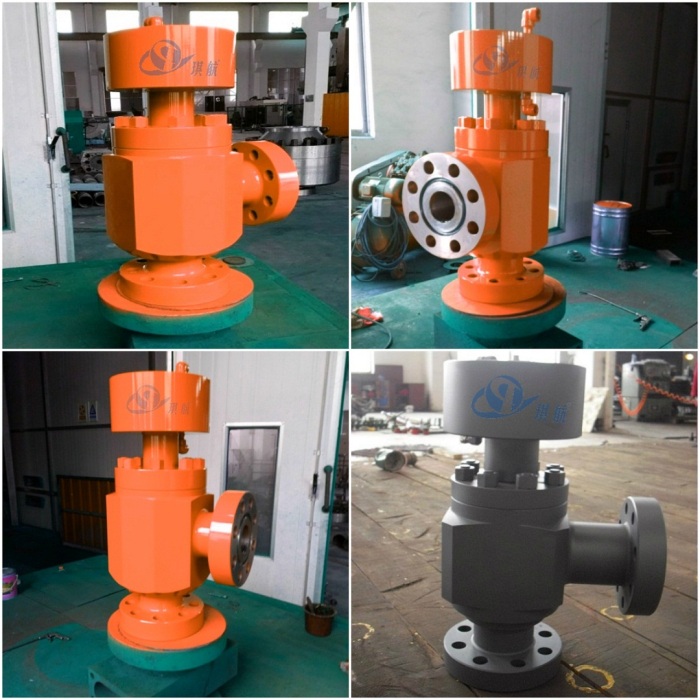 All of Qihang's raw materials and products are subject to strict and comprehensive quality check and testing.
API-6A wellhead assembly xmas trees are ready for delivery.
Qihang produces High Quality API 6A Hydraulic Choke Valve at Competitive Prices.

Contact us Today for your specific needs.