Overview

API 6A Check Valve, also referred to non-return valve, or one-way valve, is a valve that normally allows fluid (liquid or gas) to flow through it in only one direction. An important concept in check valves is the cracking pressure which is the minimum upstream pressure at which the valve will operate. Typically the check valve is designed for and can therefore be specified for a specific cracking pressure. The API 6A check valve incorporates a metal-to-metal seal for high-pressure, high-temperature environments where elastomer seals can't be used. Primary applications for the check valve are high-pressure mud choke manifolds and high pressure Christmas tree injection and kill lines. The Check Valve can be used with oil, gas, water, or drilling fluids and are available in all temperature and material classes.
We can produce both swing type check valve and lift type check valve. Available in bore sizes from 1-13/16" to 7-1/16" and pressure ratings from 2,000 to 15,000 PSI. The standard material is forged AISI4130 alloy. All of our Check Valves are fully designed, manufactured, and tested as per API 6A and API 16C standards and have been widely used on oilfield wellhead christmas tree and manifolds with reliable performance. We can also design and manufacture according to customers' specific requirements.
Detailed Specifications:
Product Name: API 6A Swing Check Valve, Lift Check Valve, One-Way Valve, Non-Return Valve
Nominal Bore: 1-13/16" - 7-1/16"
Material: AISI 4130 (Integral Forged)
End Connection: API 6A Flange
Standards Applied: API Spec 6A, API 16C, NACE MR0175
Pressure Rating: 2000 PSI to 15000 PSI
Material Class: AA, BB, CC DD, EE, FF
Temp Class: L, P, R, S, T, U, V
Performance Requirement: PR1, PR2
Product Specification Level: PSL1, PSL2, PSL3, PSL4
Paint Color: Red or Customized
Application: Mud Choke Manifold, Kill Manifold, Wellhead Christmas Tree Connection
Features/Others:
Sealing is energized by flow fluid pressure, sealing performance gets better while pressure increasing.

Hard-faced sealing surface and sulfur-resistant core material assure fine performance of wear-resistant and corrosion-resistant.

Integral forged body with fine mechanical properties.

Check valve shall be hydro tested prior to delivery for safe performance.
BOM and Part List of API 6A Check Valve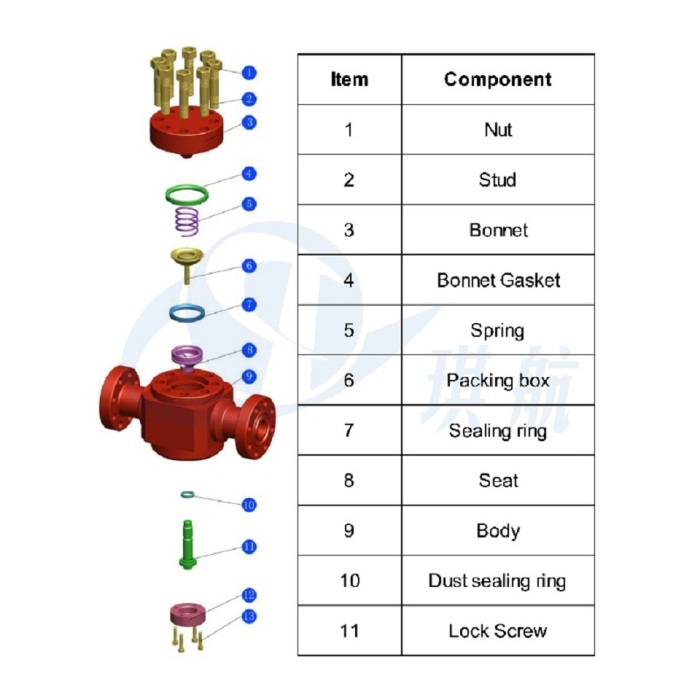 Image gallery of high pressure API-6A check valves produced by Qihang Wellhead
All of Qihang's raw materials and products are subject to strict and comprehensive quality check and testing.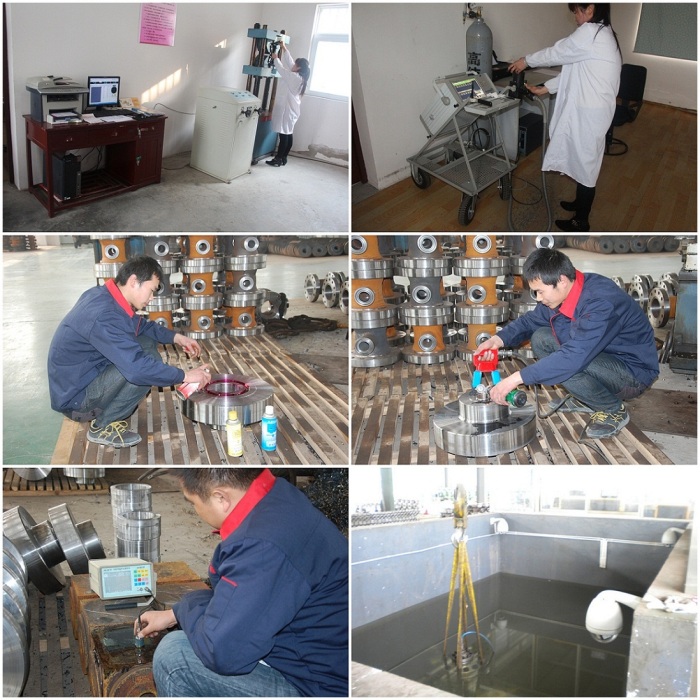 Qihang produces Top Quality API 6A Check Valves at Truly Competitive Prices.

Contact us Today for your specific needs.