Overview
A Tubing Head , also known as Tubing Head Spool or Tubing Spool, is an important mechanical fitting used on the wellhead assembly. It is usually located in the lower section of the wellhead above the casing hanger and casing spool. Tubing head features a profiled inner surface designed to accept the tubing hanger which supports and seals the tubing conduit. The upper section of the wellhead assembly is called the Christmas tree, and is attached to the top of the tubing head by means of a specially-designed head adapter. Usually, a tubing head is provided with several ports for the inclusion of gate valves and other instruments.
A wellhead is the surface termination arrangement of a subterranean crude oil well. This assembly typically consists of two multi-part sections, namely the tubing head and casing hanger section, and the Christmas tree. The hanger section is designed to support the casing and tubing strings, to terminate the wellbore during the construction phase, and to support the Christmas tree during production. The Christmas tree is a complex arrangement of valves, spools, and instruments so named because of its characteristic cluttered, crucifix shape. Its function is to control and monitor the well and its output during the production phase.
Simply put, tubing head is a wellhead component that supports the tubing hanger and provides a means of attaching the Christmas tree to the wellhead. Tubing Head Spools provided by Qihang are strictly produced in accordance with API 6A standards and can be used for both single completions and model of dual completions.
Detailed Specifications:
Product Name: Tubing Head Spool
Bore Size: 7-1/16", 9", 11", 13-5/8"
Standards: API Spec 6A, NACE MR0175, ISO 9001, ISO14001, CE etc
Working Pressure: 2000 PSI to 20000 PSI
Outlets: API 6B or API 6BX Flanged Top & Bottom
Material Class: AA, BB, CC DD, EE, FF
Temp Class: L, P, R, S, T, U, V
Performance Requirement: PR1, PR2
Product Specification Level: PSL1, PSL2, PSL3, PSL4
Application: Wellhead Christmas Tree
Paint Color: Red, Blue, Gray, Green or Customized
Origin: Yancheng, China
Tubing Head Spool functions:
Attaches above the Casing Head or Spool and seals off the production casing

Supports the blowout preventer while the well is being completed

Allows for testing of the blowout preventer while drilling

Housing for tubing hanger and seal assembly and suspends the production tubing string

Integral lock screws hold down tubing hanger

Side outlets for annular access
Tubing Head Models:
TC (single completions only)

TC-60 (three alignment pins for either single or dual completions)
Side Outlets:
Line Pipe Outlets

Studded Side Outlets
Secondary Bottom Seal Prep Types:
PE (Standard, use with PE secondary seal bushing)

HPE (for high pressure applications, use with HPE secondary seal)



Tubing Head / Tubing Spool Parameters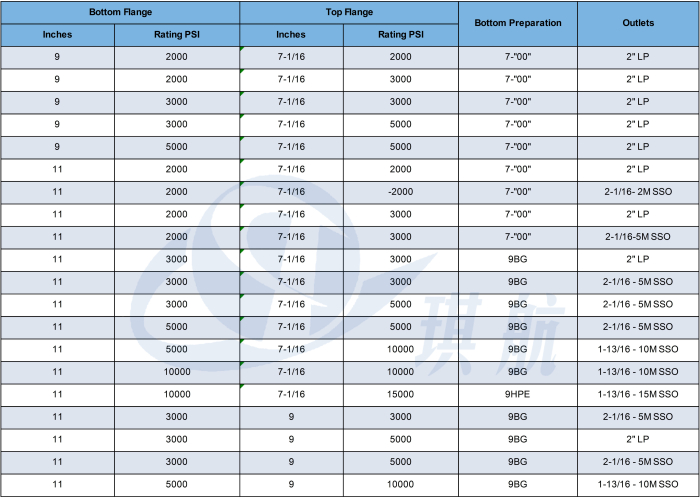 Qihang produces Top Quality API 6A Tubing Head Spools at Truly Competitive Prices.

Contact us Today for your specific needs.