Overview
Electric Submersible Pump (ESP) is a device which has a hermetically sealed motorclose-coupled to the pump body. Submersible pumps are widely used in oil & gas production to provide a relatively efficient form of Artificial Lift, able to operate across a broad range of flow rates and depths. By decreasing the pressure at the bottom of the well, significantly more oil can be produced from the well when compared with natural production. The pumps are typically electrically powered and referred to as Electrical Submersible Pumps (ESP).
Electric Submersible Pump (ESP) Wellhead device is often used in mining land low pressure wells, water containing gas wells, or thick oil wells. The wellhead cable penetrating the tubing hanger and tubing sloper to connect the electric submersible pump and surface power. It features a good sealing performance and ensures safety with convenient operation, which improves the automatic level of the electric submersible pump well. Special wellhead completion equipment is required when using an Electric Submersible Pump (ESP) to provide artifical lift. This equipment must isolate the power cable from the wellbore and pass it through both the tubing hanger and adapter to the exterior of the wellhead. All of our ESP Wellhead Assembly and Christmas Trees are fully designed, manufactured, and tested in accordance with API 6A & NACE MR0175 standards. As a professional manufacturer of Wellhead Christmas Trees, Casing Heads, API6A Gate Valves, Choke & Kill Manifolds, Tubing Heads and Hangers, Qihang Wellhead offers a wide range of solutions to match customers' specific ESP requirements.
Detailed Specifications:
Product Name: Electric Submersible Pump (ESP) Wellhead Assembly and Christmas Tree
Nominal Diameter: 2-1/16" - 13-5/8" or as per customer's requirements
Rated Working Pressure: 2000PSI - 15000PSI
Main Components: Casing Head Assembly, ESP Tubing Head Assembly, ESP Power Cable Penetrator System, ESP Tubing Head Adapter, Studded Cross, Gate Valve, Tree Cap, Companion Flange, Pressure Gauges, Needle Valve, Bull Plug, Ring Joint Gasket, Adjustable Choke Valve, Pipe Nipple etc
Material Class: AA, BB, CC, DD, EE, FF
Main Material: AISI4130 Integral Forged
Temperature Class: L, P, R, S, T, U, V
Working Medium: Petroleum, Natural gas, Slurry, Including H2S, CO2 gas
Performance Requirement: PR1, PR2
Product Specification Level: PSL-1, PSL-2, PSL-3, PSL-3G, PSL-4
Standard: API Spec 6A, NACE MR0175
Traceability: Qihang's ESP Wellhead Assembly and Xmas Trees are supplied with full traceability documentation for each component.
Packing: Plywood
Origin: Yancheng, China
Application: Oil Well & Gas Well/Shale Gas Well Drilling Production, Different Types ESP Application
ESP Wellhead Illustration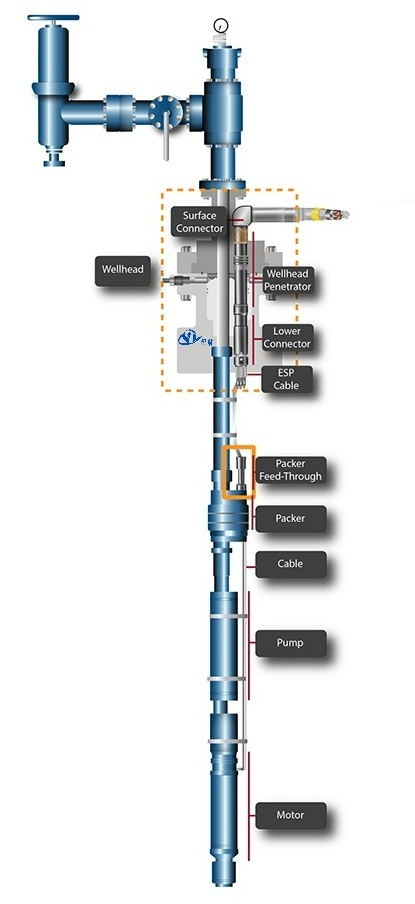 Diagram of Extended Neck ESP Completion & Seal Sleeve ESP Completion
Features/Others
Oilfield-Proven Design and ESP Wellhead Christmas Tree Products.

Cable penetrator and cable adopt a structure of rapid power plug, which has a good performance of anti-puncturing and explosion-proof.

Can be used for different types ESP.

Gate Valve and Choke Valve can be used as per customers' requirements.


On-Time delivery

Competitively Priced
All of Qihang's raw materials and products are subject to rigorous and comprehensive quality check and testing.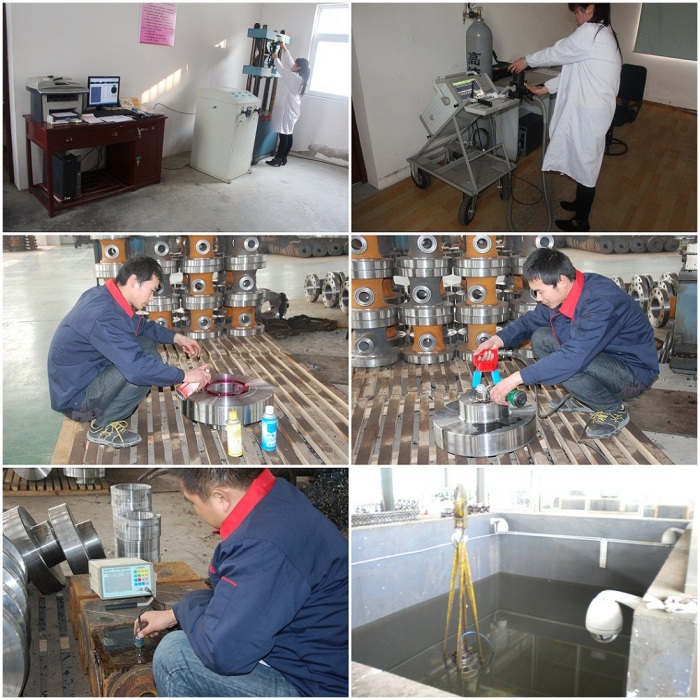 API-6A ESP Wellhead Assembly in Africa Oilfield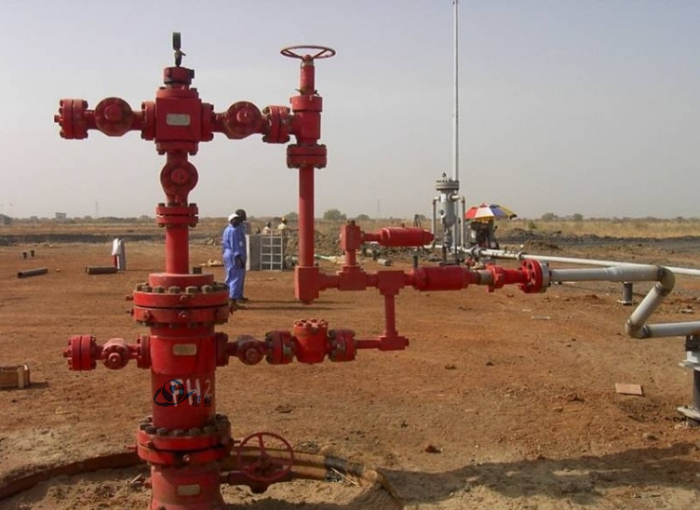 Qihang produces various types of High Quality API 6A ESP Wellhead Assembly & Christmas Trees at Competitive Prices.
Contact us Today for your specific ESP requirements.