Detailed Specifications:

Product Name: High Pressure Long Radius (Long Sweep) Chiksan Swivel Joints
Sizes: 1", 1-1/2", 2", 3", 4"
End Connection: Fig 602, Fig 1002, Fig 1502, Fig 2002 or Line Pipe Thread (LP)
Style: Style10.
Others like Style 20, Style 30, Style 40, Style 50, Style 60, Style 70, Style 80, and Style 100 are also available.
Configurations: Male x Male (MxM), Male x Female (MxF), Female x Female (FxF)
Cold Working Pressure (CWP): 2000 PSI, 3000 PSI, 5000 PSI, 6000 PSI, 10000 PSI, 15000 PSI, 20000 PSI
Material: AISI 4130 (Integral Forged)/ Stainless Steel
Temp Class: P-U (-29°C-121°C)
Working Medium: Oil, Natural Gas, Gas containing H2S, CO2
Working Condition/Service: Standard Service, Sour Gas Service (H2S)
Performance Requirement: PR1, PR2
Product Specification Level: PSL3
Standards Carried: API Spec 16C, NACE MR0175
Interchangeability: Qihang's Long Radius Swivel Joints are interchangeable with FMC Chiksan Swivel Joints and other major brands.
Traceability: Qihang's Swivel Joints are supplied with full traceability documentation.
Applications: High-pressure well service flowlines, frac manifold, well testing internal connections, cementing and circulating flowlines, Manifolds and Pipelines etc
Paint Color: Red, Olive Green or Customized
Origin: China
Configurations of Style 10 Long Radius (Long Sweep) Swivel Joints

Female x Female (FxF)
Male x Female (MxF)
Male x Male (MxM)
Gallery of Fig 1502 Long Radius (Long Sweep) Swivel Joints - Style 10 for Standard & Sour Gas (H2S) Service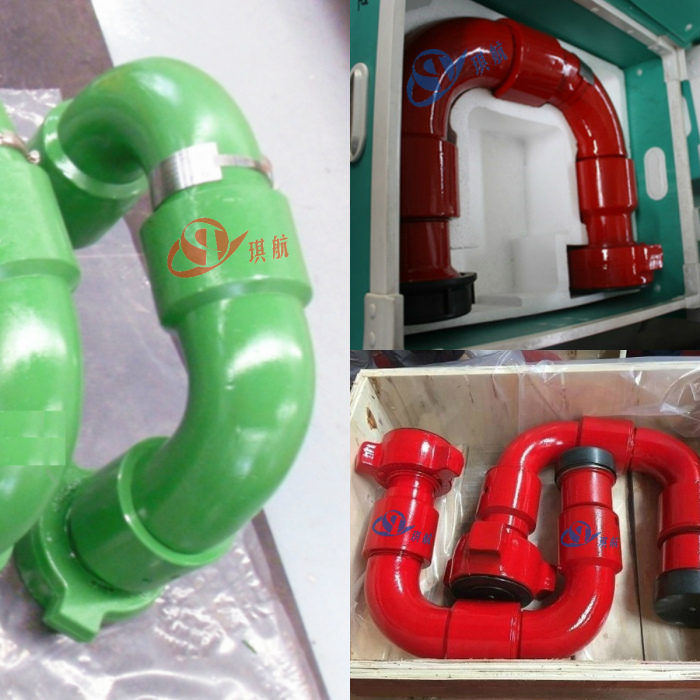 Qihang produces Top Quality High Pressure Chiksan Swivel Joints at Truly Competitive Prices.

Contact us Today for your specific needs.