We are a professional manufacturer of various types of Plummer Blocks (Split Bearing Housings). Our plummer blocks range covers SN200 series, SN300 series, SN500 (SSN500) series, SN600 (SSN600) series, SNU500 series, S3000K series, SD3000 series, SD3100 series, SD500 series, SD600 series, SN3000 (SSN3000) series, SN3100 (SSN3100) series, SNL200 series, SNL300 series, SNL500 series, SNL600 series, SNL3000 series, SNL3100 series, SNG series, SNH series, SNK series, SAF500 series, SAF600 series, to name just a few. The standard material is grey cast iron. Ductile iron, cast steel and stainless steel are also available. We also produce non-standard bearing housings as per customers' specific requirements. We proudly supply bearing housings to SIEMENS, WJB, NSK, KML, B2K etc.
The SNL 30, 31, 31 series split plummer block housings, also referred to as "Large SNL split plummer block housings", enable the bearings to achieve maximum bearing service life with minimum need for maintenance.
This supports user efforts to further reduce maintenance costs. Among other enhancements, SNL housings are designed for easy alignment and handling during installation. Another benefit is the choice of oil or grease lubrication for the bearings housed in SNL plummer blocks.
SNL housings can be used for both the locating and non-locating bearing positions. In addition to the standard seal assortment, SNL housings in the 30, 31 and 32 series are also available with seals for large axial movements. Custom seals for special applications are also available on request.
The SNL split plummer block housings are made of grey cast iron. For applications where the strength of grey cast iron is inadequate, dimensionally equivalent housings made of spheroidal graphite cast iron or cast steel can also be supplied. These series bearing housings are only available with four cast attachment bolt holes (series FSNLD) or without any holes in the base (series SSNLD).
Product Information:
Product Name: Split Plummer Blocks, Split Type Bearing Housings

Series: Large SNL housings in the 30, 31, and 32 series
Model No.: SNL3134, SNL3138, SNL3140, SNL3152, SNL3168 ...
Material: Grey Cast Iron, Ductile Iron, Cast Steel, or Stainless Steel
Vibration: Z1V1, Z2V2, Z3V3, Z4V4
Lubrication: Grease
Painting Color: Blue, Black, Green, Red, Grey, Orange or customised
Applications: Agricultral Machinery, Mining Machinry, Papermaking Machinery, Sugar Mill Equipment, Sawmill Equipment, Heavy-Duty Machineries etc.
Certification: ISO9001:2008
Features: Long life service, low noise, and ease to be installed
Image gallery of the Large SNL series Plummer Block Bearing Housings-SNL3134, SNL3138, SNL3152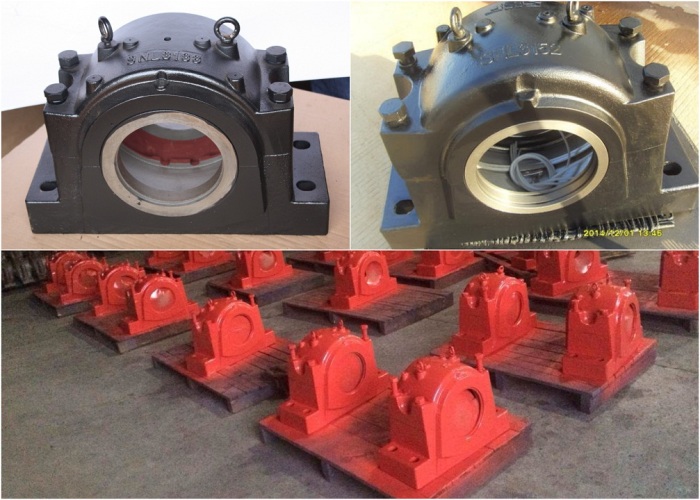 Our casting and manufacturing workshop and Exhibition Show