We professionaly manufacture various types of Plummer Blocks (Split Bearing Housings). Our plummer blocks range covers SN200 series, SN300 series, SN500 (SSN500) series, SN600 (SSN600) series, SNU500 series, S3000K series, SD3000 series, SD3100 series, SD500 series, SD600 series, SN3000 (SSN3000) series, SN3100 (SSN3100) series, SNL200 series, SNL300 series, SNL500 series, SNL600 series, SNL3000 series, SNL3100 series, SNG series, SNH series, SNK series, SAF500 series, SAF600 series, to name just a few. We also produce non-standard bearing housings as per customers' specific requirements.
We proudly supply bearing housings to SIEMENS, WJB, NSK, KML etc.
Product Information:
Product Name: Plummer Blocks, Split Type Bearing Housings

Series: SAF500
Model No.: SAF505, SAF509, SAF517, SAF522, SAF526, SAF540 etc.
Material: Cast Iron, Cast Steel, Chrome Steel, or Stainless Steel
Adapter Sleeves: HA205, HA305, HA3140 etc
Lubrication: Grease Oil
Painting Color: Blue, Red, Grey, Orange or customised
Applications: Agricultral Machinery, Mining Machinry, Papermaking Machinery, Heavy-Duty Machineries etc.
Features: Long life service, low noise, and ease to be installed
Image gallery of SAF500 series Plummer Block Bearing Housings-SAF509-SAF-517-SAF526-SAF540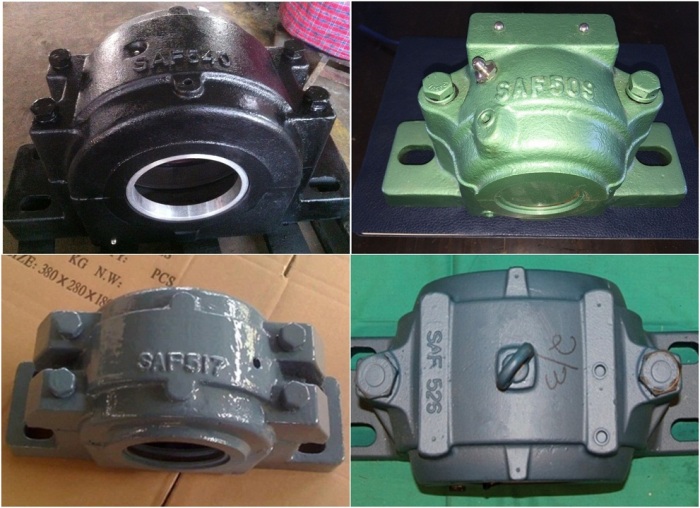 Drawing of SAF500 series Plummer Block-Split Type Bearing Housings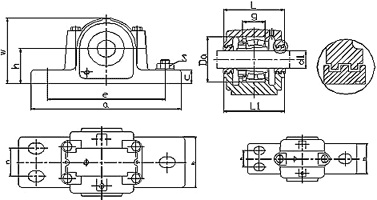 Housing No.
Shaft dia
d1
Dimensions(mm)
Housing
Wt
(kg)
Bearing
No.
Adapter
Sleeve
Locating Ring
Housing
No.
h
h12
w
L
L1
a
b
c
e
max
e
min
n
S
Number
QTY
SAF505
3/4
38.1
75
70
73
165
45
18
139.7
118


M12
(2)
1.8
1205K
2205K
HA205
HA305
FR52x5
FR52x7
2
1
SAF505
SAF506
15/16
44.5
86
78
83
191
51
18
156
133


M12
(2)
2.2
1206K
2206K
HA206
HA306
FR62x7
FR62x10
2
1
SAF506
SAF507
1-3/16
50.8
97
81
83
191
51
21
156
143


M12
(2)
2.7
1207K
2207K
HA207
HA307
FR72x8
FR72x10
2
1
SAF507
SAF509
1-7/16
57.2
111
87
92
210
61
21
178
159


M12
(2)
3.9
1209K
2209K
22209K
HA209
HA309
HA309
FR85x6
FR85x8
FR85x8
2
1
1
SAF509
SAF510
1-11/16
63.5
121
87
99
210
61
24
178
165


M12
(2)
4.3
1210K
2210K
22210K
HA210
HA310
HA310
FR90x6.5
FR90x10
FR90x10
2
1
1
SAF510
SAF511
1-15/16
69.9
133
95
114
245
70
24
200
188


M16
(2)
5
1211K
2211K
22211K
HA211
HA311
HA311
FR100x6
FR100x8
FR100x8
2
1
1
SAF511
SAF513
2-3/16
76.2
151
108
114
279
80
25
241
206


M16
(2)
7.7
1213K
2213K
22213K
HA213
HA313
HA313
FR120x9
FR120x10
FR120x10
2
1
1
SAF513
FSAF513
2-3/16
76.2
151
108
114
279
80
25
241
206
50.8
M12
(4)
7.7
1213K
2213K
22213K
HA213
HA313
HA313
FR120x9
FR120x10
FR120x10
2
1
1
FSAF513
SAF515
2-7/16
82.6
162
118
121
286
80
29
245
219


M16
(2)
8.7
1215K
2215K
22215K
HA215
HA315
HA315
FR130x8
FR130x10
FR130x10
2
1
1
SAF515
FSAF515
2-7/16
82.6
162
118
121
286
80
29
245
219
47.7
M12
(4)
8.7
1215K
2215K
22215K
HA215
HA315
HA315
FR130x8
FR130x10
FR130x10
2
1
1
FSAF515
SAF516
2-11/16
88.9
175
121
124
330
89
30
279
245


M20
(2)
11.6
1216K
2216K
22216K
HA216
HA316
HA316
FR140x8.5
FR140x10
FR140x10
2
1
1
SAF516
FSAF516
2-11/16
88.9
175
121
124
330
89
30
279
245
54.1
M16
(4)
11.6
1216K
2216K
22216K
HA216
HA316
HA316
FR140x8.5
FR140x10
FR140x10
2
1
1
FSAF516
SAF517
2-15/16
95.3
186
122
127
330
89
32
279
251


M20
(2)
12.3
1217K
2217K
22217K
HA217
HA317
HA317
FR150x9
FR150x10
FR150x10
2
1
1
SAF517
FSAF517
2-15/16
95.3
186
122
127
330
89
32
279
251
54.1
M16
(4)
12.3
1217K
2217K
22217K
HA217
HA317
HA317
FR150x9
FR150x10
FR150x10
2
1
1
FSAF517
SAF518
3-3/16
101.6
197
140
146
349
99
33
295
264


M20
(2)
15.4
1218K
2218K
22218K
HA218
HA318
HA318
FR160x10
FR160x10
FR160x10
2
1
1
SAF518
FSAF518
3-3/16
101.6
197
140
146
349
99
33
295
264
54.1
M16
(4)
15.4
1218K
2218K
22218K
HA218
HA318
HA318
FR160x10
FR160x10
FR160x10
2
1
1
FSAF518
SAF520
3-7/16
114.3
222
148
152
387
111
45
333
295


M24
(2)
27.3
1220K
2220K
22220K
HA220
HA320
HA320
FR180x11
FR180x10
FR180x10
2
1
1
SAF520
FSAF520
3-7/16
114.3
222
148
152
387
111
45
333
295
60.5
M20
(4)
27.3
1220K
2220K
22220K
HA220
HA320
HA320
FR180x11
FR180x10
FR180x10
2
1
1
FSAF520
SAF522
3-15/16
125.4
245
164
165
419
121
51
368
321
69.9
M20
(4)
35
1222K
2222K
22222K
HA222
HA322
HA322
FR200x12.5
FR200x10
FR200x10
2
1
1
SAF522
SAF524
4-3/16
133.4
260
181
188
419
121
54
368
337
69.9
M20
(4)
43.2
22224K
HA3124
FR215x10
1
SAF524
SAF526
4-7/16
152.4
292
197
203
467
130
61
406
372
82.6
M24
(4)
58.6
22226K
HA3126
FR230x10
1
SAF526
SAF528
4-15/16
152.4
298
187
194
511
149
61
435
406
85.9
M24
(4)
62
22228K
HA3128
FR250x10
1
SAF528
SAF530
5-3/16
160.4
318
207
213
540
159
64
464
432
95.3
M24
(4)
76.8
22230K
HA3130
FR270x10
1
SAF530
SAF532
5-7/16
169.9
338
216
222
559
159
67
489
442
95.3
M24
(4)
81.3
22232K
HA3132
FR290x10
1
SAF532
SAF534
5-15/16
179.4
360
235
245
629
172
70
549
492
108
M24
(4)
104.5
22234K
HA3134
FR310x10
1
SAF534
SAF536
6-7/16
190.5
378
245
254
680
181
76
600
530
117.6
M24
(4)
117.6
22236K
HA3136
FR320x10
1
SAF536
SAF538
6-15/16
200
398
267
273
711
191
80
619
549
114.3
M30
(4)
135
22238K
HA3138
FR340x10
1
SAF538
SAF540
7-3/16
209.6
419
279
286
749
203
86
635
572
127
M30
(4)
167.5
22240K
HA3140
FR360x10
1
SAF540
SAF544
7-15/16
241.3
473
298
305
832
222
95
708
629
133.4
M30
(4)
230.2
22244K
HA3144
FR400x10
1
SAF544