We are a professional manufacturer of various types of Split Plummer (Pillow) Block Housings. Our plummer blocks range covers SN200 series, SN300 series, SN500 (SSN500) series, SN600 (SSN600) series, SNU500 series, S3000K series, SD3000 series, SD3100 series, SD500 series, SD600 series, SN3000 (SSN3000) series, SN3100 (SSN3100) series, SNL200 series, SNL300 series, SNL500 series, SNL600 series, SNL3000 series, SNL3100 series, SNL3200 series, SNG series, SNH series, SNK series, SAF500 series, SAFD5000 series, SAF600 series, SAFD600 series, to name just a few. The standard material is grey cast iron. Ductile iron, cast steel and stainless steel are also available. We also produce non-standard bearing housings as per customers' specific requirements. We proudly supply bearing housings to SIEMENS, WJB, NSK, KML, B2K etc.
Product Information:
Product Name: Split Plummer Blocks, Split Type Bearing Housings

Series: SAF600 Series, SAFD600 Series
Model No.: SAF609, SAF 632, SAF 638, SAF640 etc.
Material: Grey Cast Iron, Ductile Iron, Cast Steel, or Stainless Steel
Vibration: Z1V1, Z2V2, Z3V3, Z4V4
Lubrication: Grease Oil
Painting Color: Black, Grey, Orange or customised
Applications: Agricultral Machinery, Mining Machinry, Papermaking Machinery, Sugar Mill Equipment, Sawmill Equipment, Heavy-Duty Machineries etc.
Features: Long life service, low noise, simple mounting.
Image gallery of SAF500-SAF600 series Plummer Block Bearing Housings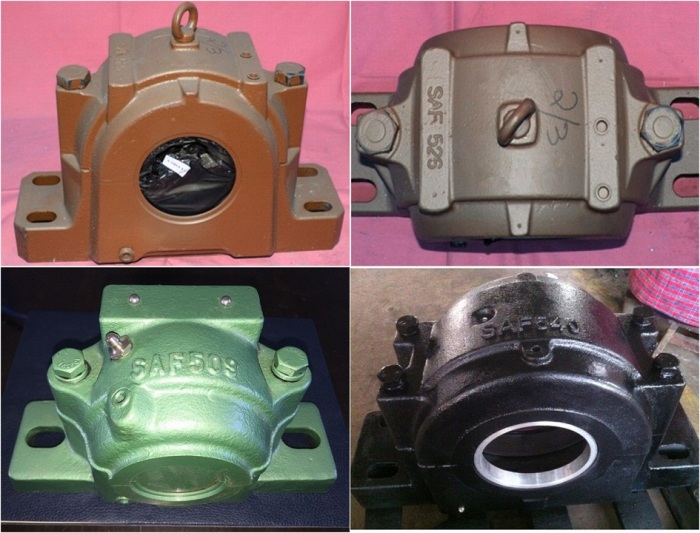 Our casting and manufacturing workshop and Exhibition Show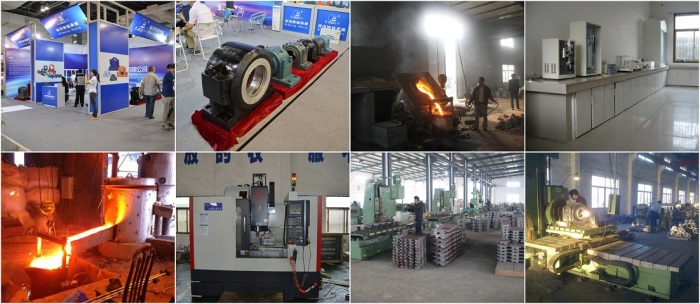 Drawing os SAF600 Series Split Plummer Block Bearing Housings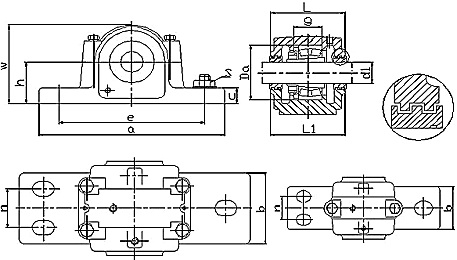 Housing
No.
Shaft dia
d1
(in)
Dimensions(mm)
Housing
Wt (kg)
Bearing
No.
Adapter
Sleeve
Locating Ring
Housing
No.
D
H8
g
H12
h
h12
w
L
(L1)
a
b
c
e
max
e
min
n
S
Number
QTY
SAF609
1-7/16
100
46
69.9
135
105
108
245
70
25
200.2
187.5


M16
(2)
7.2
1309K
2309K
21309K
22309K
HA309
HA2309
HA309
HA2309
FR100x10.5
FR100x10
FR100x10.5
FR100x10
2
1
2
1
SAF609
SAF610
1-11/16
110
51
76.2
148
114
118
270
70
29
228.6
196.9


M16
(2)
9.2
1310K
2310K
21310K
22310K
HA310
HA2310
HA310
HA2310
FR110x11.5
FR110x10
FR110x11.5
FR110x10
2
1
2
1
SAF610
SAF611
1-15/16
120
53
82.6
157
121
124
279
80
30
241.3
206.5


M16
(2)
11
1311K
2311K
21311K
22311K
HA311
HA2311
HA311
HA2311
FR120x12
FR120x10
FR120x12
FR120x10
2
1
2
1
SAF611
FSAF611
1-15/16
120
53
82.6
157
121
124
279
80
30
241.3
206.5
51
M12
(4)
11
1311K
2311K
21311K
22311K
HA311
HA2311
HA311
HA2311
FR120x12
FR120x10
FR120x12
FR120x10
2
1
2
1
FSAF611
SAF613
2-3/16
140
58
88.9
176
133
137
330
90
32
279.4
244.6


M20
(2)
13.3
1313K
2313K
21313K
22313K
HA313
HA2313
HA313
HA2313
FR140x12.5
FR140x10
FR140x12.5
FR140x10
2
1
2
1
SFA613
FSAF613
2-3/16
140
58
88.9
176
133
137
330
90
32
279.4
244.6
54
M16
(4)
13.3
1313K
2313K
21313K
22313K
HA313
HA2313
HA313
HA2313
FR140x12.5
FR140x10
FR140x12.5
FR140x10
2
1
2
1
FSAF613
SAF615
2-7/16
160
65
101.6
197
149
159
349
100
33
295.4
263.7


M20
(2)
21
1315K
2315K
21315K
22315K
HA315
HA2315
HA315
HA2315
FR160x14
FR160x10
FR160x14
FR160x10
2
1
2
1
SAF615
FSAF615
2-7/16
160
65
101.6
197
149
159
349
100
33
295.4
263.7
54
M16
(4)
21
1315K
2315K
21315K
22315K
HA315
HA2315
HA315
HA2315
FR160x14
FR160x10
FR160x14
FR160x10
2
1
2
1
FSAF615
SAF616
2-11/16
170
68
108
210
156
165
362
100
33
320.8
270


M20
(2)
24
1316K
2316K
21316K
22316K
HA316
HA2316
HA316
HA2316
FR170x14.5
FR170x10
FR170x14.5
FR170x10
2
1
2
1
SAF616
FSAF616
2-11/16
170
68
108
210
156
165
362
100
33
320.8
270
54
M16
(4)
24
1316K
2316K
21316K
22316K
HA316
HA2316
HA316
HA2316
FR170x14.5
FR170x10
FR170x14.5
FR170x10
2
1
2
1
FSAF616
SAF617
2-15/16
180
70
114.3
222
165
172
387
111
45
333.5
295.4


M24
(2)
27
1317K
2317K
21317K
22317K
HA317
HA2317
HA317
HA2317
FR180x14.5
FR180x10
FR180x14.5
FR180x10
2
1
1
1
SAF617
FSAF617
2-15/16
180
70
114.3
222
165
172
387
111
45
333.5
295.4
61
M20
(4)
27
1317K
2317K
21317K
22317K
HA317
HA2317
HA317
HA2317
FR180x14.5
FR180x10
FR180x14.5
FR180x10
2
1
1
1
FSAF617
SAF618
3-3/16
190
74
120.7
233
168
175
394
111
51
342.9
304.8
57
M20
(4)
29.5
1318K
2318K
21318K
20318K
22318K
HA318
HA2318
HA318
HA318
HA2318
FR190x11.5
FR190x10
FR190x15.5
FR190x15.5
FR190x10
2
1
2
2
1
SAF618
SAF620
3-7/16
215
83
133.3
260
181
187
419
121
54
368.3
336.6
70
M20
(4)
42
1320K
2320K
20320K
21320K
22320K
HA320
HA2320
HA320
HA320
HA2320
FR215x18
FR215x10
FR215x18
FR215x18
FR215x10
2
1
2
2
1
SAF620
SAF622
3-15/16
240
90
152.4
292
197
203
467
130
61
406.4
371.6
83
M20
(4)
50
1322K
20322K
21322K
22322K
HA322
HA322
HA322
HA2322
FR240x20
FR240x20
FR240x20
FR240x10
2
2
2
1
SAF622
SAF624
4-3/16
260
96
160.4
318
207
213
540
160
64
463.6
431.8
95
M24
(4)
72
20324K
22324K
HA3124
HA2324
FR260x20.5
FR260x10
2
1
SAF624
SAF626
4-7/16
280
103
169.9
338
216
222
559
160
67
489
441.5
95
M24
(4)
77.7
20326K
22326K
HA3126
HA2326
FR280x22.5
FR280x10
2
1
SAF626
SAF628
4-15/16
300
112
179.4
360
235
238
629
172
70
549.4
492.3
108
M24
(4)
95
20328K
22328K
HA3128
HA2328
FR300x25
FR300x10
2
1
SAF628
SAF630
5-3/16
320
118
190.5
378
245
248
680
181
76
600.2
530.4
117.6
M24
(4)
118
20330K
22330K
HA3130
HA2330
FR320x26.5
FR320x10
2
1
SAF630
SAF632
5-7/16
340
124
200
398
267
270
711
191
80
619.3
549.4
114.3
M30
(4)
128
20332K
22332K
HA3132
HA2332
FR340x28
FR340x10
2
1
SAF632
SAF634
5-15/16
360
130
209.6
419
279
286
749
203
86
635
571.5
127
M30
(4)
150
22334K
HA2334
FR360x10
1
SAF634
SAF636
6-7/16
380
136
225.4
451
282
289
794
210
89
676
610
133
M30
(4)
170.2
22336K
HA2336
FR380x10
1
SAF636
SAF638
6-15/16
400
142
241.3
473
298
305
832
222
95
708.2
628.7
133.4
M30
(4)
198
22338K
HA2338
FR400x10
1
SAF638
SAF640
7-3/16
420
148
250.8
508
299
306
870
229
102
749
667
140
M30
(4)
255
22340K
HA2340
FR420x10
1
SAF640