We professionaly manufacture various types of Plummer Blocks (Split Bearing Housings). Our plummer blocks range covers SN200 series, SN300 series, SN500 (SSN500) series, SN600 (SSN600) series, SNU500 series, S3000K series, SD3000 series, SD3100 series, SD500 series, SD600 series, SN3000 (SSN3000) series, SN3100 (SSN3100) series, SNL200 series, SNL300 series, SNL500 series, SNL600 series, SNL3000 series, SNL3100 series, SNG series, SNH series, SNK series, SAF500 series, SAF600 series, to name just a few. We also produce non-standard bearing housings as per customers' specific requirements.
Product Information:
Product Name: Plummer Blocks, Split Type Bearing Housings

Series: SD3100
Model No.: SD3134, SD3136, SD3138, SD3140, SD3144, SD3148, SD3152, SD3156, SD3160, SD3164, SD3168, SD3172, SD3176, SD3180
Material: Cast Iron, Cast Steel, Chrome Steel, or Stainless Steel
Adapter Sleeves: H3134, H3136, H3138, H3140, H3144, H3148, H3152, H3156, H3160, H3164, H3168, H3172, H3176, H3180
Lubrication: Grease Oil
Painting Color: Blue, Red, Grey, Orange or customised
Applications: Agricultral Machinery, Mining Machinry, Papermaking Machinery, Heavy-Duty Machineries etc.
Features: Long life service, low noise, and ease to be installed
Image gallery of SD3100 series Plummer Block Bearing Housings-SD3140-SD3144-SD3148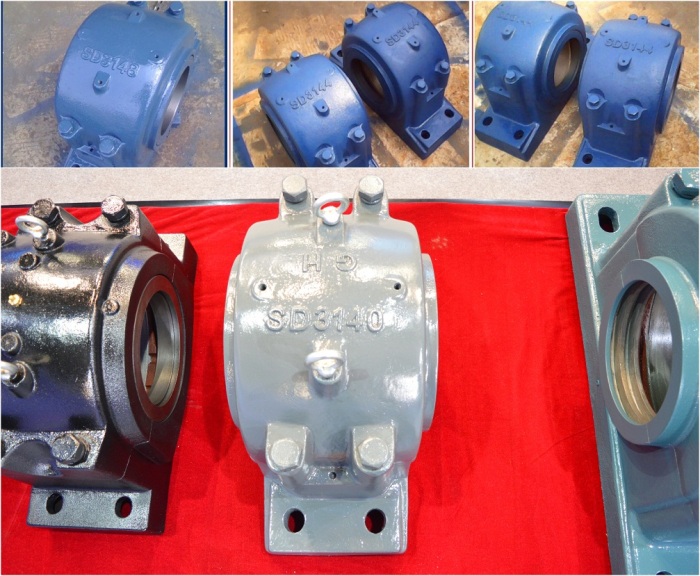 Drawing of SD 3100 series Plummer Block-Split Type Bearing Housings
Housing
No.
Shaft dia
d1(mm)
Dimensions(mm)
Housing
Wt (kg)
Bearing
No.
Adapter
Sleeve
Locating Ring
D
H8
a
b
c
g
H12
h
h12
L
L2
W
m
n
J
X
Z
S
Number
QTY
SD3134
150
280
510
180
70
108
170
230
308
335
430
100
14
65
120
M24
70
23134K
H3134
HE3134
SR280x10
2
SD3136
160
300
530
190
75
116
180
240
318
355
450
110
15
68
130
M24
79
23136K
H3136
HE3136
SR300x10
2
SD3138
170
320
560
210
80
124
190
260
336
375
480
120
10
80
140
M24
100
23138K
H3138
HE3138
SR320x10
2
SD3140
180
340
610
230
85
132
210
280
356
410
510
130
10
82
150
M30
130
23140K
H3140
HE3140
SR340x10
2
SD3144
200
370
640
240
90
140
220
290
368
435
540
140
12
90
155
M30
146
23144K
H3144


SR370x10
2
SD3148
220
400
700
260
95
148
240
310
388
475
600
150
12
100
160
M30
190
23148K
H3148


SR400x10
2
SD3152
240
440
770
280
100
164
260
320
400
515
650
160
13
105
170
M36
230
23152K
H3152


SR440x10
2
SD3156
260
460
790
280
105
166
280
320
400
550
670
160
16
105
170
M36
260
23156K
H3156


SR460x10
2
SD3160
280
500
830
310
110
180
300
350
426
590
710
190
22
110
190
M36
320
23160K
H3160


SR500x10
2
SD3164
300
540
880
330
115
196
320
370
448
630
750
200
23
120
200
M36
350
23164K
H3164


SR540x10
2
SD3168
320
580
965
380
120
210
340
390
488
670
840
240
25
135
220
M45
550
23168K
H3168


SR580x10
2
SD3172
340
600
1040
390
130
212
360
390
498
720
890
255
22
145
225
M50
560
23172K
H3172


SR600x10
2
SD3176
360
620
1120
400
135
214
380
405
520
750
980
255
22
145
240
M55
780
23176K
H3176


SR620x10
2
SD3180
380
650
1245
420
140
220
400
405
552
790
1050
270
22
150
260
M60
885
23180K
H3180


SR650x10
2