A Plummer Block, also known as Split Type Bearing Housing, consists of a cast iron Block Base, gunmetal bearing bottom & top halves, a cast iron cap and two mild steel bolts. It is made in two halves to provide easy placing and removal of the shaft in and from bearing. The split bottom & top halves give advantage to overcome wear as these can be easily replaced. The bolt holes in the block base are made longer with semi-circular ends for adjusting the position of the bearing.
Specialising in the design and manufacture of quality bearing housings, we pride ourselves on an immediate and dedicated response to standard and special bearing housing solutions. Our plummer (pillow) block bearing housings range covers SN200 series, SN300 series, SN500 (SSN500) series, SN600 (SSN600) series, SNU500 series, S3000K series, SD3000 series, SD3100 series, SD500 series, SD600 series, SN3000 (SSN3000) series, SN3100 (SSN3100) series, SNL200 series, SNL300 series, SNL500 series, SNL600 series, SNL3000 series, SNL3100 series, SNL3200 series, SNG series, SNH series, SNK series, SAF500 series, SAFD5000 series, SAF600 series, SAFD600 series, BND series, SDJS series, SDJC series, SDJD series, to name just a few. The standard material is grey cast iron. Ductile iron, cast steel and stainless steel are also available. We also produce non-standard bearing housings as per customers' specific requirements. We proudly supply bearing housings to SIEMENS, WJB, NSK, KML, B2K etc. Our plummer blocks have been sold to more than 30 countries, such as the USA, Canada, Germany, Italy, France, Spain, Argetina, Poland, Indonesia, Vietnam, South Korea, Thailand etc.
SDJ series bearing housings are very large and heavy-duty plummer block housings form a compliment to the SD type housing design. Heavy ribbed construction in the bottom half permits SDJ housing to accommodate load acting at right angle to the foundation surface. SDJ housings are preferred choice for steel industries, crusher application and cement industries.
SDJ housings are split plummer blocks suitable for spherical roller bearing of 231 series on adapter sleeve, however it is possible to modify the housings to accommodate bearings of other series. SDJ housings can be supplied with end cover for closed shaft application.They are available for locating and non locating bearing arrangement. SDJ housings are designed for grease lubrication.
SDJ Bearing Housings are large split Housings with shorter feet length than standard bearing housings. With a central web, the deisgn of these Housings make them extremely strong. This Bearing Housing has one oil well inside to capture and drain any excess oil.
Product Information:
Product Name: Plummer Blocks, Split Type Bearing Housings
Series: SDJ series
Model No.: SDJC 3076, SDJ 3168, SDJC 3180, SDJS 3188, SDJD 3192, SDJ 3196 etc
Materials: SDJ series Bearing Housings can be supplied in following materials.
Cast Steel, named as SDJS series

High Grade Grey Cast Iron, named as SDJC series

Spheroidal Graphite Iron (Ductile Iron), named as SDJD series
Seals: Labyrinth Seals
Lubrication: Grease
Painting Color: Orange, Blue, Black, Grey or customised
Applications: Steel industries, Crusher application and Cement industries, Heavy-Duty Machineries etc.
Features: Long life service, low noise, simple mounting, little maintenance required.
Image gallery of SDJ series Split Plummer Block Bearing Housings which we supplied to South Korean customer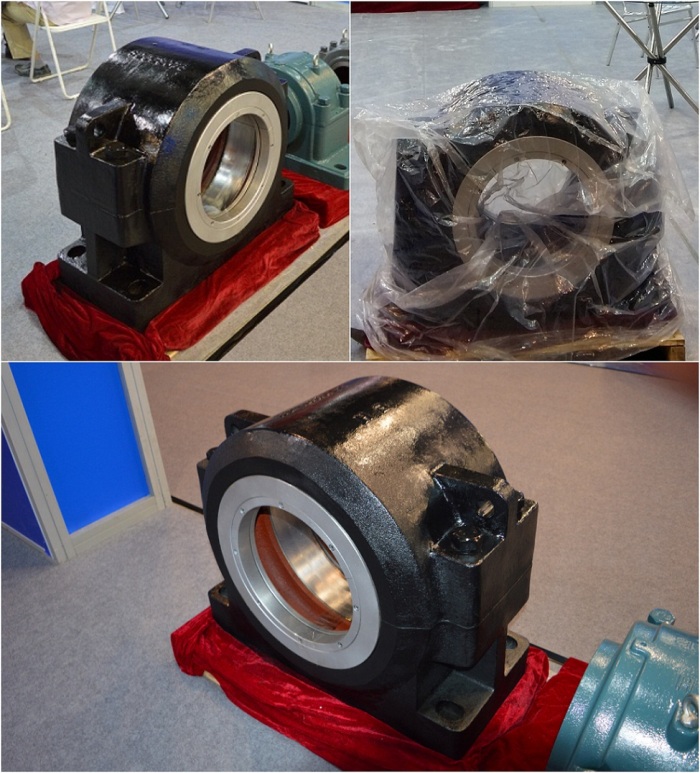 Our casting and manufacturing workshop and Exhibition Show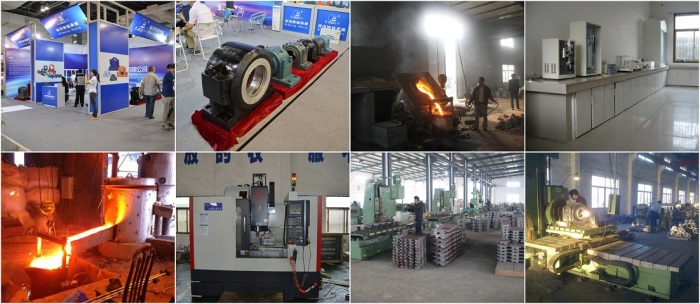 If you need plummer (pillow) blocks-split type bearing housings which feature high quality with competitive pricings, please contact us.