We are a professional manufacturer of various types of Split Plummer (Pillow) Block Housings. Our plummer blocks range covers SN200 series, SN300 series, SN500 (SSN500) series, SN600 (SSN600) series, SNU500 series, S3000K series, SD3000 series, SD3100 series, SD500 series, SD600 series, SN3000 (SSN3000) series, SN3100 (SSN3100) series, SNL200 series, SNL300 series, SNL500 series, SNL600 series, SNL3000 series, SNL3100 series, SNL3200 series, SNG series, SNH series, SNK series, SAF500 series, SAF600 series, to name just a few. The standard material is grey cast iron. Ductile iron, cast steel and stainless steel are also available. We also produce non-standard bearing housings as per customers' specific requirements. We proudly supply bearing housings to SIEMENS, WJB, NSK, KML, B2K etc.
SNL housings are made of grey cast iron. For applications where extra strength is needed, SNL housings are also available in spheroidal graphite cast iron. Housings made of spheroidal graphite cast iron are available from size 510-608 and are supplied with a solid base (no holes for attachment bolts) as standard. From size 511-608 the housings can be supplied with four oblong holes cast in the base. All housings made of spheroidal graphite cast iron can be supplied with two drilled holes for attachment bolts.
Product Information:
Product Name: Split Plummer Blocks, Split Type Bearing Housings

Series: SNL 5 Series
Model No.: SNL509, SNL515-612, SNL516-613, SNL517, SNL530, SNL532 etc.
Material: Grey Cast Iron, Ductile Iron, Cast Steel, or Stainless Steel
Vibration: Z1V1, Z2V2, Z3V3, Z4V4
Lubrication: Grease Oil
Painting Color: Black, Grey, Orange or customised
Interchangeability: SNL plummer block housings in the 2, 3, 5 and 6 series are dimensionally interchangeable with the SN, SNA and SNH series.
Applications: Agricultral Machinery, Mining Machinry, Papermaking Machinery, Sugar Mill Equipment, Sawmill Equipment, Heavy-Duty Machineries etc.
Features: Long life service, low noise, simple mounting. The SNL series housing base is reinforced with ribs and has extra material surrounding the holes for the attachment bolts.
Image gallery of SNL 5 series Plummer Block Bearing Housings-SNL509, SNL517

Our casting and manufacturing workshop and Exhibition Show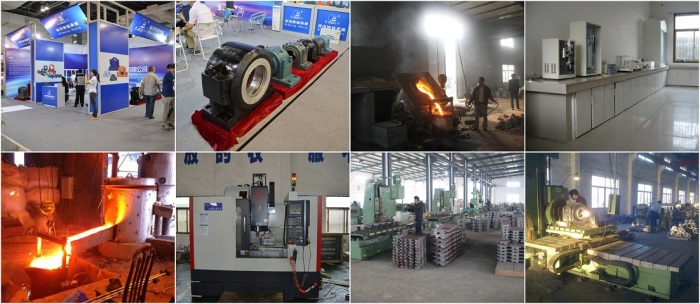 Specifications of the SNL 5 series Plummer Block-Split Type Bearing Housings
Housing
NO.
Shaft
dia
d1(mm)
Dimensions(mm)
Housing
Weightt
(kg)
Seals
Bearing
NO.
Adapter
Sleeve
Locating Ring
Bearing
NO.
Adapter
Sleeve
Locating Ring
A
A1
H
H1
H2
J
L
N
N1
G
Ca
Da
NO.
QTY
NO.
QTY
SNL505
20
67
46
74
40
19
130
165
20
15
12
25
52
1.9
TSNG505
TSNS505
1205K
H205
FR52x5
2
2205K
22205K
H305
FR52x3.5
2
SNL506-605
25
77
52
89
50
22
150
185
20
15
12
32
62
2.2
TSNG506
TSNS506
1206K
H206
FR62x8
2
2206K
22206K
H306
FR62x6
2
SNL507-606
30
82
52
93
50
22
150
185
20
15
12
34
72
2.4
TSNG507
TSNS507
1207K
H207
FR72x8.5
2
2207K
22207K
H307
FR72x5.5
2
SNL508-607
35
85
60
108
60
25
170
205
20
15
12
39
80
3.2
TSNG508
TSNS508
1208K
H208
FR80x10.5
2
2208K
22208K
H308
FR80x8
2
SNL509
40
85
60
109
60
25
170
205
20
15
12
30
85
3.5
TSNG509
TSNS509
1209K
H209
FR85x5.5
2
2209K
22209K
H309
FR85x3.5
2
SNL510-608
45
90
60
113
60
25
170
205
20
15
12
41
90
3.85
TSNG510
TSNS510
1210K
H210
FR90x10.5
2
2210K
22210K
H310
FR90x9
2
SNL511-609
50
95
70
128
70
28
210
255
24
18
16
44
100
5.4
TSNG511
TSNS511
1211K
H211
FR100x11.5
2
2211K
22211K
H311
FR100x9.5
2
SNL512-610
55
105
70
134
70
30
210
255
24
18
16
48
110
6.7
TSNG512
TSNS512
1212K
H212
FR110x13
2
2212K
22212K
H312
FR110x10
2
SNL513-611
60
110
80
149
80
30
230
275
24
18
16
51
120
7.9
TSNG513
TSNS513
1213K
H213
FR120x14
2
2213K
22213K
H313
FR120x10
2
SNL515-612
65
115
80
155
80
30
230
280
24
18
16
56
130
9.7
TSNG515
TSNS515
1215K
H215
FR130x15.5
2
2215K
22215K
H315
FR130x12.5
2
SNL516-613
70
120
90
177
95
32
260
315
28
22
20
58
140
11.5
TSNG516
TSNS516
1216K
H216
FR140x16
2
2216K
22216K
H316
FR140x12.5
2
SNL517
75
125
90
183
95
32
260
320
28
22
20
61
150
12.8
TSNG517
TSNS517
1217K
H217
FR150x16.5
2
2217K
22217K
H317
FR150x12.5
2
SNL518-615
80
140
100
194
100
35
290
345
28
22
20
65
160
15.4
TSNG518
TSNS518
1218K
22218K
H218
H318
FR160x17.5
FR160x12.5
2
2
2218K
22218K
H318
H2318
FR160x12.5
FR160x6.25
2
2
SNL519-616
85
145
100
212
112
35
290
345
28
22
20
68
170
16.4
TSNG519
TSNS519
1219K
H219
FR170x18
2
2219K
22219K
H319
FR170x12.5
2
SNL520-617
90
160
110
218
112
40
320
380
32
26
24
70
180
20.4
TSNG520
TSNS520
1220K
22220K
H220
H320
FR180x18
FR180x12
2
2
2220K
23220K
H320
H2320
FR180x12
FR180x4.85
2
2
SNL522-619
100
175
120
242
125
45
350
410
32
26
24
80
200
26.5
TSNG522
TSNS522
1222K
22222K
H222
H322
FR200x21
FR200x13.5
2
2
2222K
23222K
H322
H2322
FR200x13.5
FR200x5.1
2
2
SNL524-620
110
185
120
271
140
45
350
410
32
26
24
86
215
32.2
TSNG524
TSNS524
1224K
22224K
H3024
H3124
FR215x22
FR215x14
2
2
23224K
H2324
FR215x5
2
2
SNL526
115
190
130
290
150
50
380
445
35
28
24
90
230
39.8
TSNG526
TSNS526
22226K
H3126
FR230x13
2
23226K
H2326
FR230x5
2
SNL528
125
205
150
302
150
50
420
500
42
35
30
98
250
48.8
TSNG528
TSNS528
22228K
H3128
FR250x15
2
23228K
H2328
FR250x5
2
SNL530
135
220
160
323
160
60
450
530
42
35
30
106
270
56.5
TSNG530
TSNS530
22230K
H3130
FR270x16.5
2
23230K
H2330
FR270x5
2
SNL532
140
235
160
344
170
60
470
550
42
35
30
114
290
63.5
TSNG532
TSNS532
22232K
H3132
FR290x17
2
23232K
H2332
FR290x5
2