Detailed Specifications:
Product Name: Integral Union Crossovers/Adapters, X-Overs, Hammer Union Crossover Assembly
Sizes: 1", 2", 2"x3", 3", 4", 4"x2", 5"
Length: 1.5 Feet, 7 Feet or As per customers' requests.
Cold Working Pressure (CWP): 6000 PSI (6K), 10000 PSI (10K), 15000 PSI (15K), 20000 PSI (20K)
Material: AISI 4130 Integral Forged
Working Temperature: -29°C~121°C.
Configuration: Male x Female (M x F), Female x Male ( F x M) or according to customers requirements
Shape: Equal, Reducing
End Connection: Hammer Union Fig 602, Fig 1502, Fig 2002, Fig 1002 Integral Connection, Threaded,
Traceability: Qihang's Union Crossovers/Adapters are supplied with full traceability documentation for each component.
Interchangeability: Qihang's Union X-Overs/Adapters are interchangeable with FMC Chiksan Union Crossovers and Kemper Hammer Union Crossovers and other major brands.
Service: Standard, H2S Service, Sour Service
Standards: API 16C, API6A, and NACE MR0175
Application: High-pressure well service flowlines.
Origin: China


Features:
High Quality Integral Forged Construction

Crossovers are 7" OAL (overall length) but can be specially made to any length. Qihang can manufacture any configuration to suite the customers requirement.

Wing Hammer Union End Connections

Long and dependable service, even in the most extreme conditions


Comes with Full Material Traceability

Competitively Priced

On-Time Delivery

General Drawing of Integral Hammer Union Crossover 2" Fig 1502 Male x Female (M x F)
Gallery of High Pressure Flow Line Integral Hammer Union Crossovers/Adapters Male x Female (M x F)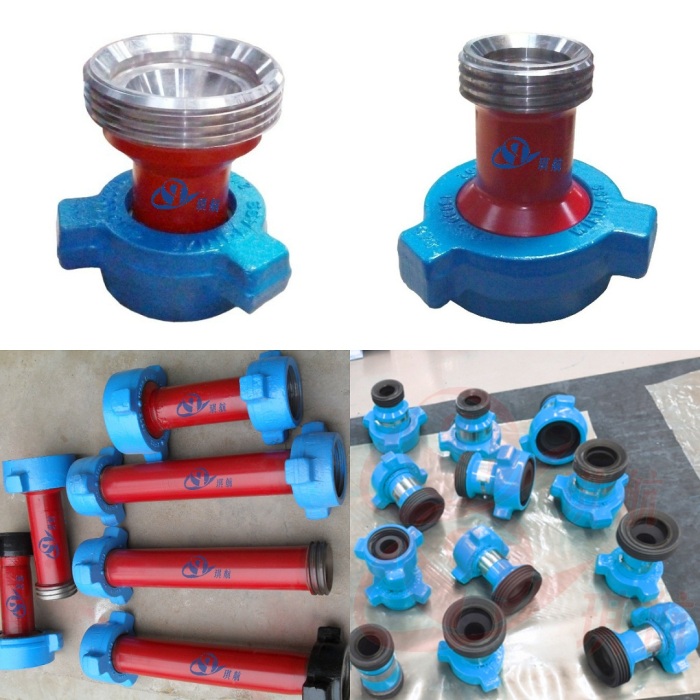 All of Qihang's raw materials and products are subject to rigorous and comprehensive quality check and testing.
Qihang produces Top Quality Chiksan Hammer Union Crossovers/Adapters and other Integral Fittings at Competitive Prices.
Contact us Today for your specific needs.